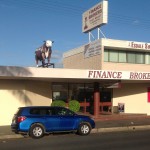 Finance Brokers Rockhampton servicing Central and Northern Queensland.
Established since 1997 we help hundreds of clients each year achieve their goals by providing innovative finance solutions. We do this by taking the time to get to know them, and providing value added services in a cost effective and timely manner. Whether it's as a sounding board for a new idea, help with a business plan, or assisting in sourcing finance facilities, we have become their trusted finance partner.
Our Financing Options
We offer our clients a wide range of financing options from major and boutique financiers as follows:
We also have access to financial planners, residential and commercial insurance representatives which can assist with protecting your assets, yourself and if applicable your workforce.
Why Choose us?
Our aim is to build long term relationships with our clients by providing them with  expertise and access to a wide range of Equipment Finance Products. This experience and product range enables us to be able to offer you:
Structured Equipment Finance transactions that are suited to your business requirements;
Additional options compared to what one financier can provide.  We have access to a wide range of Financiers include core financiers (the major Bank's) and a number of boutique lenders who specialise in assets that a Bank would generally not finance without additional security.  We can provide finance for most assets used by businesses;
The ability to be able to fund equipment that would typically require additional security; and
In most cases we can free up security held to be better used for core banking requirements.
With a fully mobile sales team that provide good old fashioned face-to-face service we are happy to meet with you at a time and location that is convenient to you.
Please feel free to browse our website to find out more about our products and services or you can contact us to talk with one of the Esdale Sinclair & Associates Finance Brokers Rockhampton team to see how we can help you.